Chapter 10     Finding Supports
The social enterprise journey in Ireland can seem to be a lonely one. You are not alone. There are supports available.
10.1
When do I need a Professional?
It can be difficult getting started on your own or with a small group of people. Deciding when you need more help is a conversation worth having.
Many accountants and solicitors and business development professionals will often give you advice for free. It might be worth contacting people in your own networks with skills before you start. Make sure that you are as knowledgeable as you can be and consider pricing how much it might be to hire a professional to manage your finances or setting up your structure correctly before you begin.
10.1
Local Enterprise Offices
Local Enterprise Offices are set up to help business across Ireland and are a one-stop shop for information and resources. The LEO's often provide information on training, mentoring and finance. Although there is no unified language on social enterprise for Local Enterprise Offices, they do provide supports for profit seeking organisations with a focus on creating employment and supporting entrepreneurship in general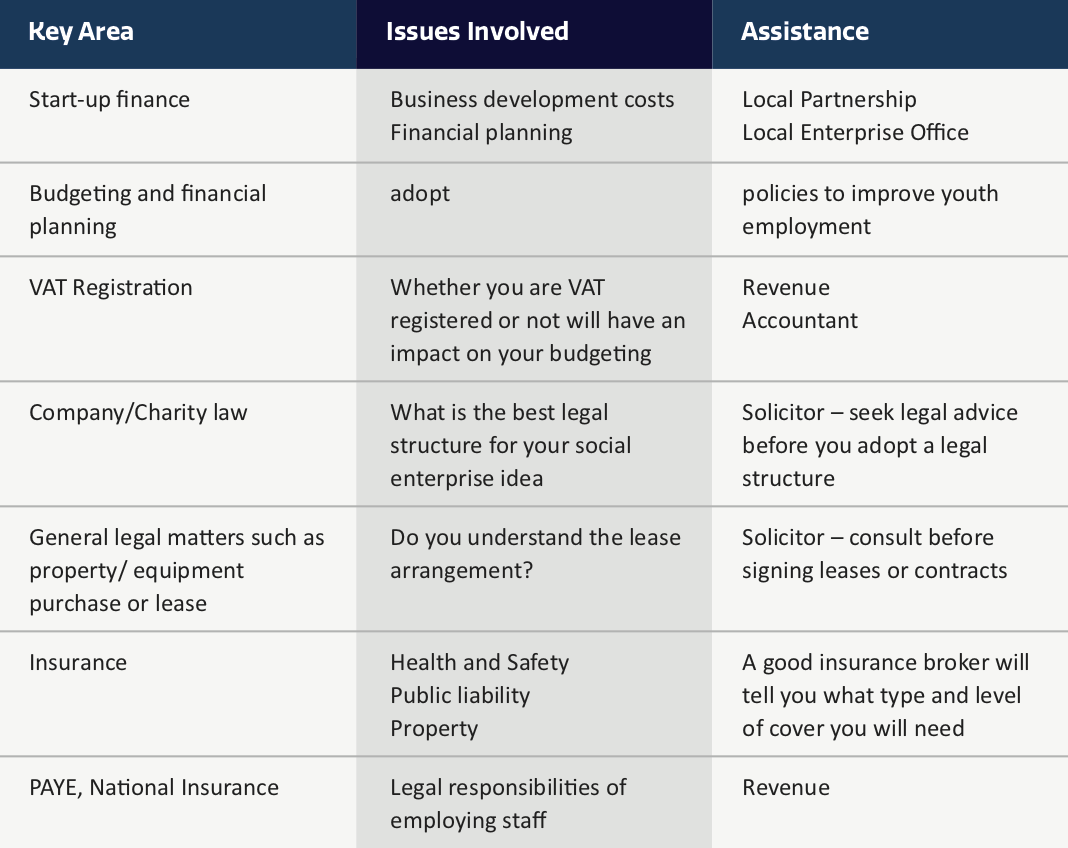 You can find out about the Local Enterprise Offices through the website http://www.localenterprise.ie
You can find out about the Dublin Local Enterprise Office at their website https://www.localenterprise.ie/DublinCity/
10.2
Local Development Companies
Local Development Companies (LDCs) are known by many different names throughout Ireland including Local Area Partnerships, LEADER Partnerships, Integrated Development Companies as well as 'Local Development Company'. They provide supports and advice and training in local areas that have a:
Bottom-up approach – working with communities to develop local solutions to local issues

Focus on promoting local economic development

Focus on addressing inequality and social exclusion
Check out http://ildn.ie/ to find your Local Development Company
For more information on Dublin South City Partnership, check out http://dublinsouthcitypartnership.ie/
10.3
Social Finance Lenders
There are two social finance lenders in Ireland. They work closely with the Social Finance Foundation that provides support finance through the Dormant Account Fund. Social Finance Foundation does not itself loan to social enterprises directly but you can find out more about their work and the space by logging on to http://www.sff.ie/
Both Community Finance Ireland and Clann Credo provide social finance loans. You can find out more about them on their websites.
Community Finance Ireland https://www.communityfinance.ie/
Clann Credo http://www.clanncredo.ie/
10.4
Finance
Microfinance Ireland http://www.microfinanceireland.ie/
GRID Finance http://www.gridfinance.ie/
Linked Finance https://linkedfinance.com/
10.5
Networks
Irish Social Enterprise Network http://www.socent.ie
Charities Institute of Ireland https://www.charitiesinstituteireland.ie/
Community Reuse Network Ireland http://crni.ie/
The Wheel http://www.wheel.ie/
Communities Creating Jobs http://www.ccj.ie/
10.6
Grant Award Bodies
Social Innovation Fund http://www.socialinnovation.ie/
Social Entrepreneurs Ireland Award http://socialentrepreneurs.ie/
Social Enterprise Award http://innercityenterprise.com/
The Wheel Funding Point http://www.wheel.ie/funding
Pobal.ie https://www.pobal.ie/Pages/Home.aspx
10.7
Other Supports
Irish Cooperative
Organisations Society (ICOS) http://icos.ie/
BuySocial.ie http://www.buysocial.ie/
Citizens Information: Starting a business http://www.citizensinformation.ie/en/employment/types_of_employment/self_employment/setting_up_a_business_in_ireland.html
Local Enterprise Office – Supporting SMEs Online Tool: https://www.localenterprise.ie/Discover-Business-Supports/Supporting-SMEs-Online-Tool/
Local Enterprise Office – Training Programmes: https://www.localenterprise.ie/Discover-Business-Supports/Training-Programmes/
10.8
Private Organisation Supports
Enterprise Ireland https://www.enterprise-ireland.com/en/
Sustainable Energy
Authority of Ireland (SEAI) https://www.seai.ie/
Intertrade Ireland http://www.intertradeireland.com/
Udaras na Gaeltachta http://www.udaras.ie/
Quality Matters http://www.qualitymatters.ie
10.9
Employment Supports
Local Employment Services http://www.localemploymentservices.ie/
Social Welfare http://www.welfare.ie/
Pobal https://www.pobal.ie/
There are a number of initiatives that might allow you to develop a social enterprise while seeking employment and also might find you your first employees. Find out more on initiatives such as the Back to Work Enterprise Allowance, Short-Term Enterprise Allowance, Tús, Community Employment and Community Services Programmes.